Lustrepaws
CLIENT
Nurivan Sosa

SECTOR
Professional Services
SERVICES
Verbal Identity
Visual Identity
Merch System
Presentation Materials
Social Media
Lustrepaws is a top-tier, all encompassing petcare service established by Nurivan Sosa, and provides to local Houston pet-parents with peace of mind. Through their devotion to pet grooming, styling, fitness, and training, Lustrepaws cares for the wellbeing of all furry friends and gives them all the opportunity to live life to the fullest by looking and feeling their very best.

Although I helped Nurivan create a visual identity back in 2019, I decided to give the brand a slightly updated look to coincide with its relaunch in 2022. Type, color, illustrations, and brand elements were all reselected with a tighter visual focus, giving Lustrepaws an even more polished and friendlier look for all fur-babies.

Design Inspiration
Lustrepaws needed an identity system that made them stand out from normal pet chain retailers. This premium experience needed to feel welcoming and hospitable, as the groomer, Nurivan, would come to each client's house and feel invited into their personal space, almost as a member of their family. The design of Lustrepaws was drawn on inspiration of the word "luster": a gentle sheen or soft glow.

The sparkle and ornate monogram exemplified the radiant and glossy finish of a pet's fur after their session. These designs show that Lustrepaws is an experience that requires patience, compassionate care, and an attention to detail that is not easily replicated by others.

The primary full lockup, used mainly for print applications.
The secondary lockup, used for fun branding moments.
Our monogram sparkle.
The original headline font I chose was Plantin. After discussing with Nurivan, we decided the Reckless would be a perfect timeless, professional, and friendly evolution. Cadiz was chosen as the body copy, due to it's easy, approachable readability.


We simplified down our color palette so that Hueso, Mandarina, and Arbol can take more of a vibrant role, whereas the pastel colors are used more for supportting sincere moments.


Illustrations of dogs and cats having fun at the spa were made cohesive in the same lineweight, and had equal use of our color palette.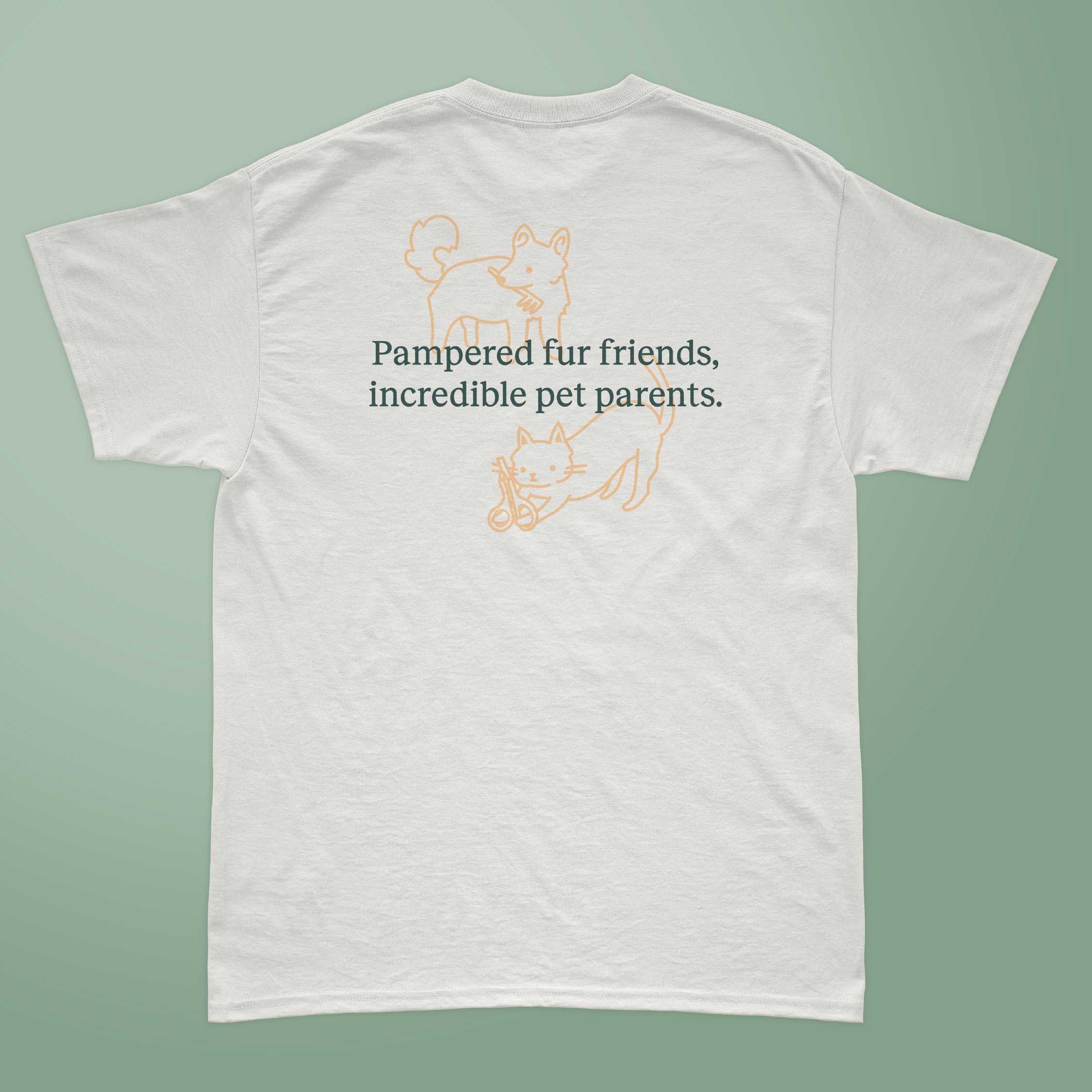 Instagram

Because Nurivan uses social media heavily to attract new clients, it was important for us to create visual graphics that were enticing and conveyed what Lustrepaws' mission.

Our main focus was creating Pet Makeovers graphics, which were before and after shots of each pet during the grooming process. These pictures can be followed by testimonials submitted from pet-parents, all within the same post. New customers can easily look and swipe through to view the detailed and confident expertise that Lustrepaws has.