Valéron Strength Films: Identity
CLIENT
Valéron Strength Films

SECTOR
Manufacturing
SERVICES
Identity System
Branding
User Research
Print Design
Wayfinding
Environmental Graphics
In 2019, I worked as a Graphics/Web Design Intern for Valéron Strength Films, one of the largest global industry innovators for manufacturing high-performance plastic films.

My main assignment was to revamp their outdated website, one that hadn't been touched since 2000. However, after looking over all their current marketing materials, I decided to completely redesign their identity system to a more refreshed premium look that matched the quality of their product. Showcasing their professional personality through specific visual elements can ultimately help distinguish Valeron from other competitors.
Design Research

First, I had to gain insight on the company as a whole and the current customers and employee experience from internal staff in all 3 global locations. This meant scheduling one-on-one interviews with around 20 people, ranging from Sales, Customer Service, Research & Development, and Directors from Houston, Essen, and Shanghai.

I marked what makes Valéron's company and product unique from competitors and the problems that they were facing. I also asked the staff team what they personally thought of the brand, and the overall consensus was that Valéron's brand felt like an outdated look.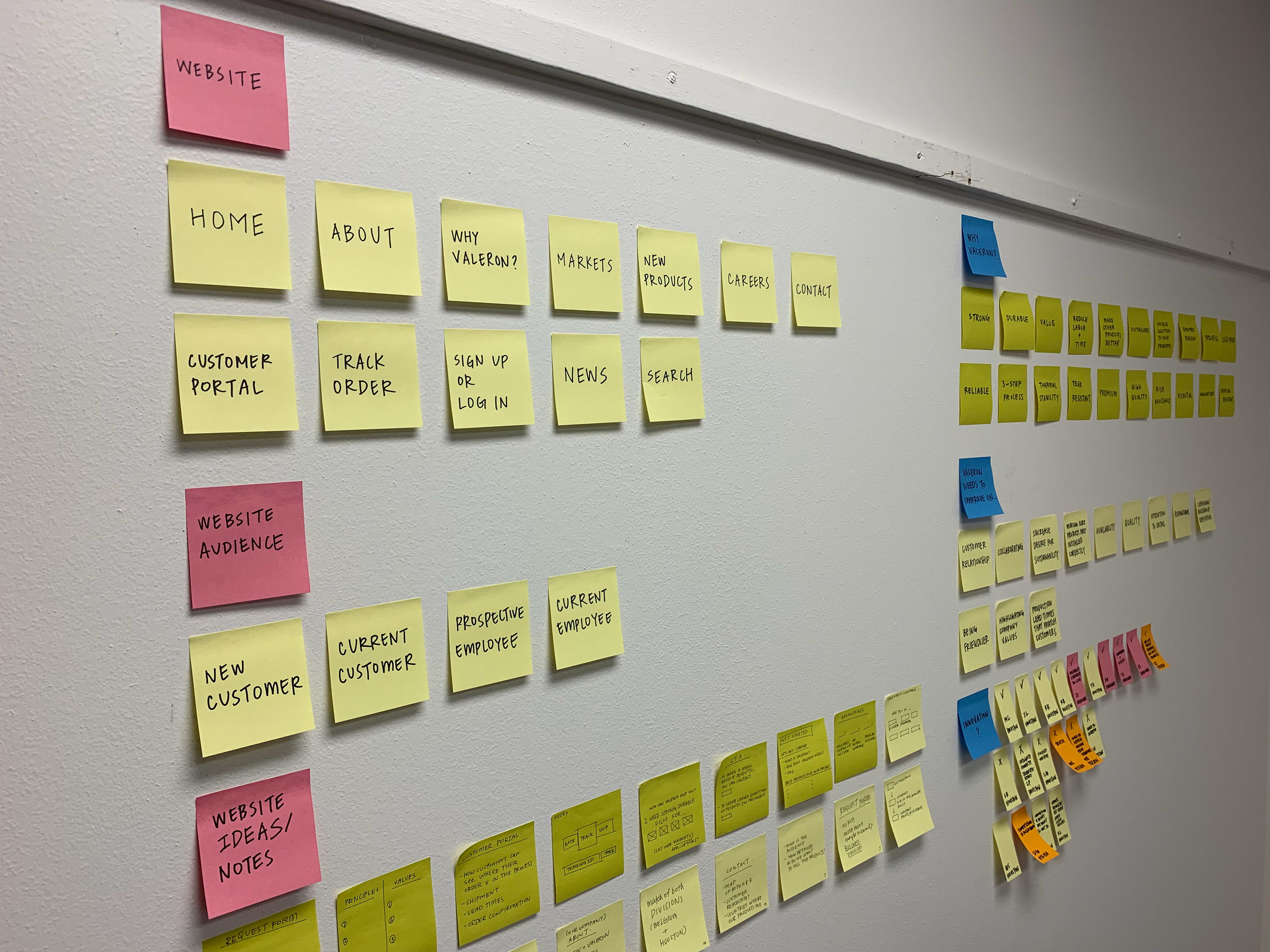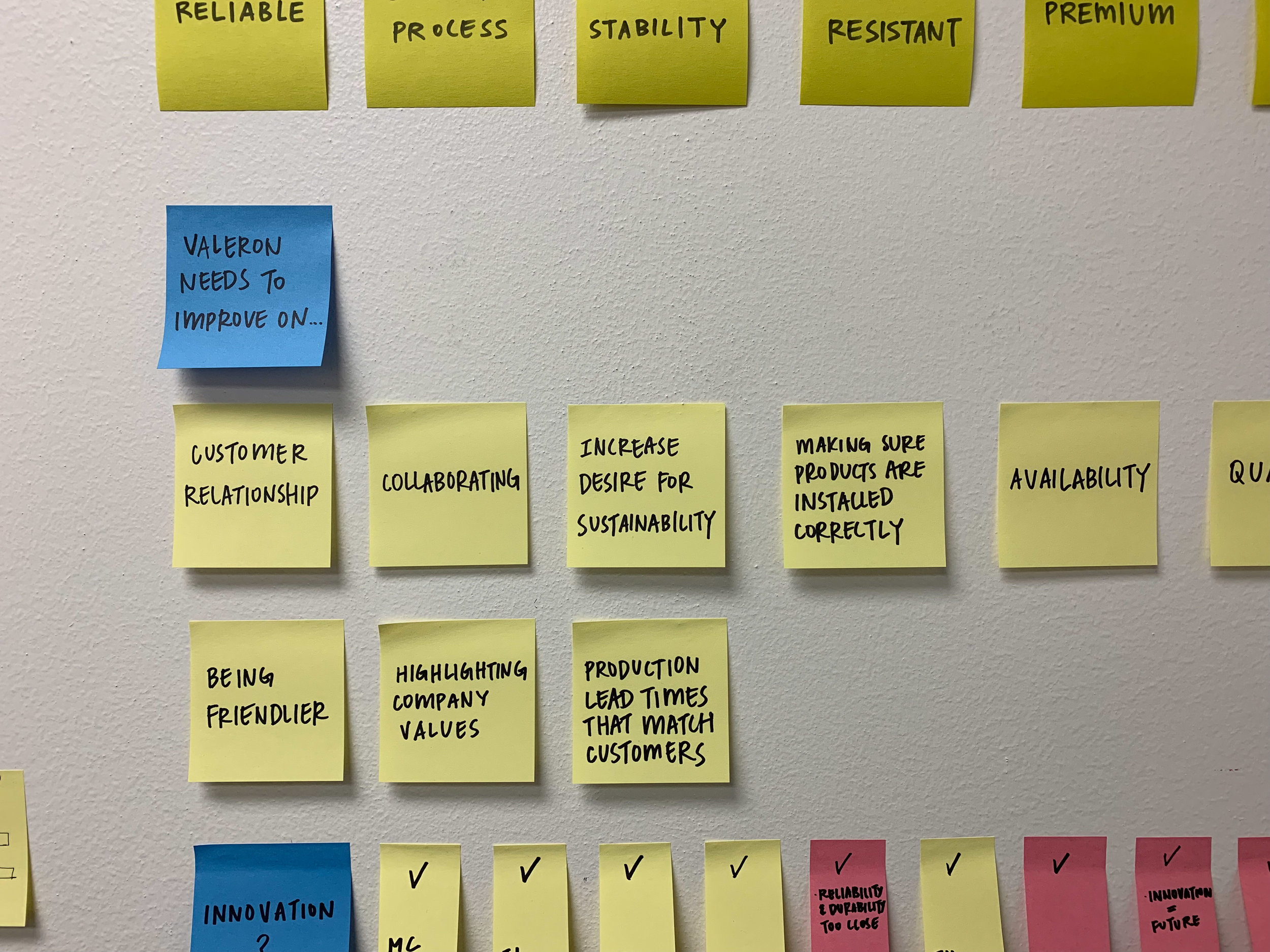 New Identity System

As this year marks their 50th company anniversary, I wanted to refine Valeron while maintaining their original roots and foundation. The new V logo holds more significance in representing their unique 3-step process for creating film and has a bolder graphic feel. It can also be used in smaller areas for their social media logo, a feat that their original logo couldn't achieve with 3 lines of text.

The logotype chosen was Audiowide, a font that's sturdy and grounded, yet has a premium and curved aesthetic, indicating Valeron's mature experience within the industry and ability to be flexible for any application.

Their original blue color was refined to specific primary, secondary, and accent hues to indicate moments of support and connection. Finally, their benefit icons were redesigned and optimized to highlight product selections, main properties, and market choices for easy user readability.

Print and Digital Collateral

After refining the brand direction, it was time to update their marketing materials. The sales team needed new folders and infographics that utilized our rebranded elements; the R&D team also needed new data sheet layouts to present to customers. A new letterhead was developed, one for day to day messaging for coworkers, and another sleek design for larger audiences and events. Even their powerpoint template was given a fresh new look that was user-friendly and easy to edit.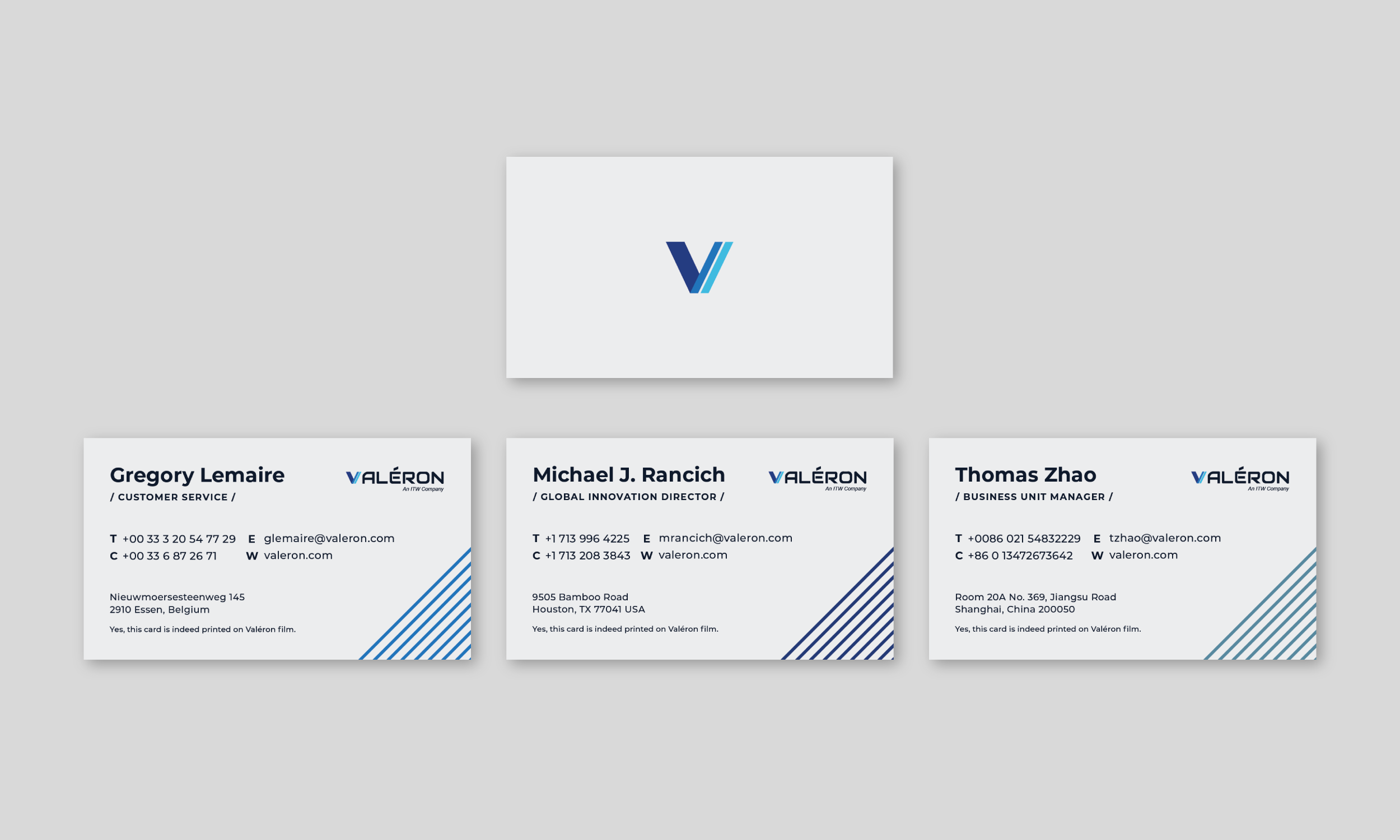 Signage and Wayfinding
Collaborating with the HR Director, we wanted the physical space of the office to inspire existing employees and impress new customers. New furniture was purchased for the front lobby and a new lounge area was formed for employees to sit and engage with one another.
As you walk in, there are infographics on the wall to help visitors identify themselves. In the office space, you're greeted with a timeline of Valéron's history as well as our global footprint. New conference room signs were also designed to help navigate offices, and our main conference room has an updated manufacturing process to help guide potential clients through our film-making steps. Their 80/20 culture is shown throughout the space and newly designed maps were added in their plant.