Valéron Strength Films: Website
CLIENT
Valéron Strength Films

SECTOR
Manufacturing
In 2019, I worked as a Graphics/Web Design Intern for Valéron Strength Films, one of the largest global industry innovators for manufacturing high-performance plastic films.

My main assignment was to revamp their outdated website, one that hadn't been touched since 2000. The goal was to redesign their site to not only showcase their high-quality products, but effectively create a platform where both, current and new, employees and customers can easily navigate to find the right film.
Design Research

I marked what makes Valeron's company and products unique from competitors and the problems that they were facing. A website hierarchy chart was created and went through several iterations for refinement. With the directors team, we narrowed down our most important pages to tackle first (Homepage, Manufacturing, Markets, and Contact), and then added in the rest afterwards.

Our Markets page took the longest to reiterate, due to the overwhelming amount of products that Valéron stopped manufacturing. Instead of titling the page "Solutions", we decided it was an oversaturated word in the manufacturing industry, and renamed it "Markets" to better let customers properly define where they need our help the most.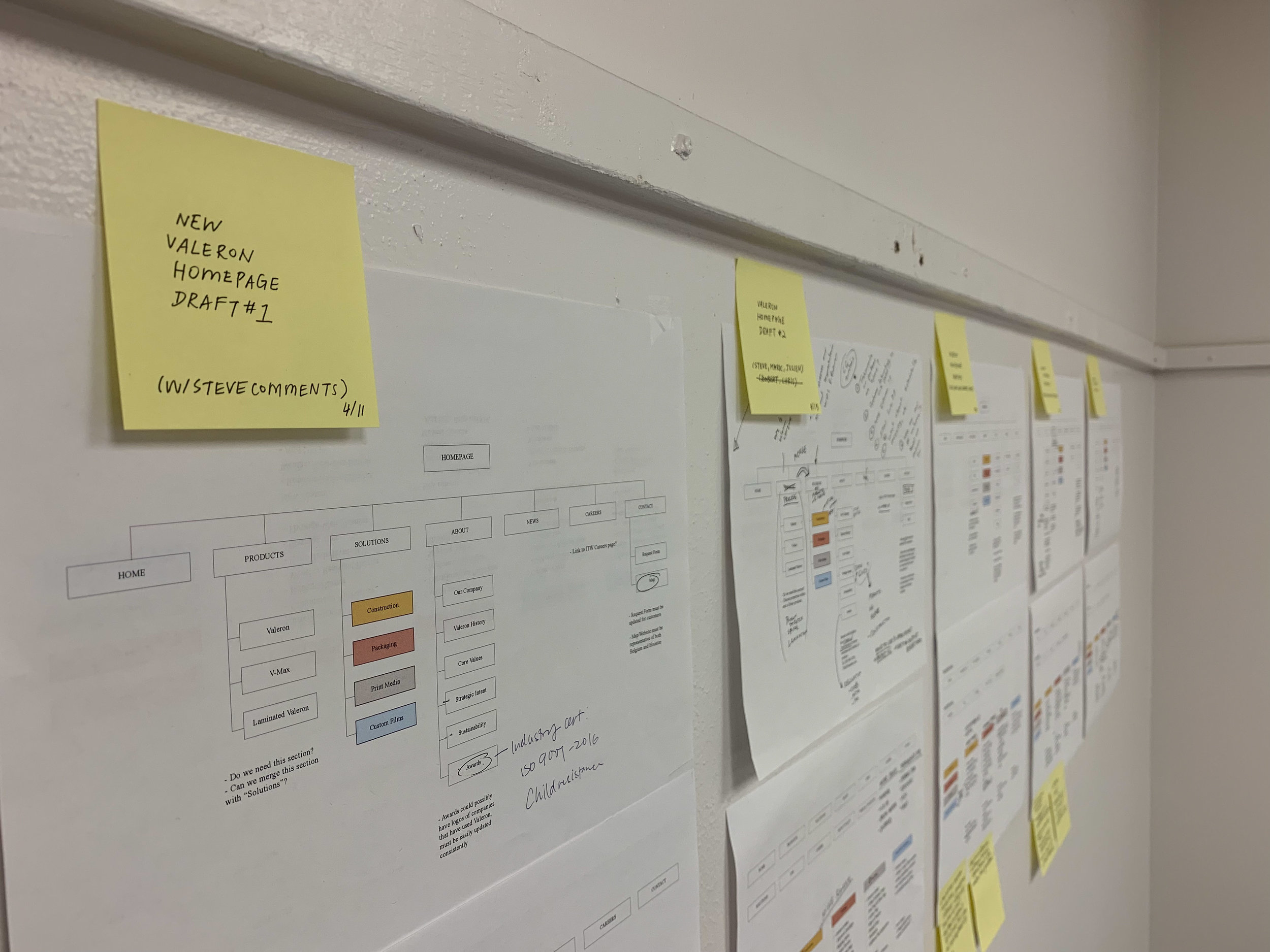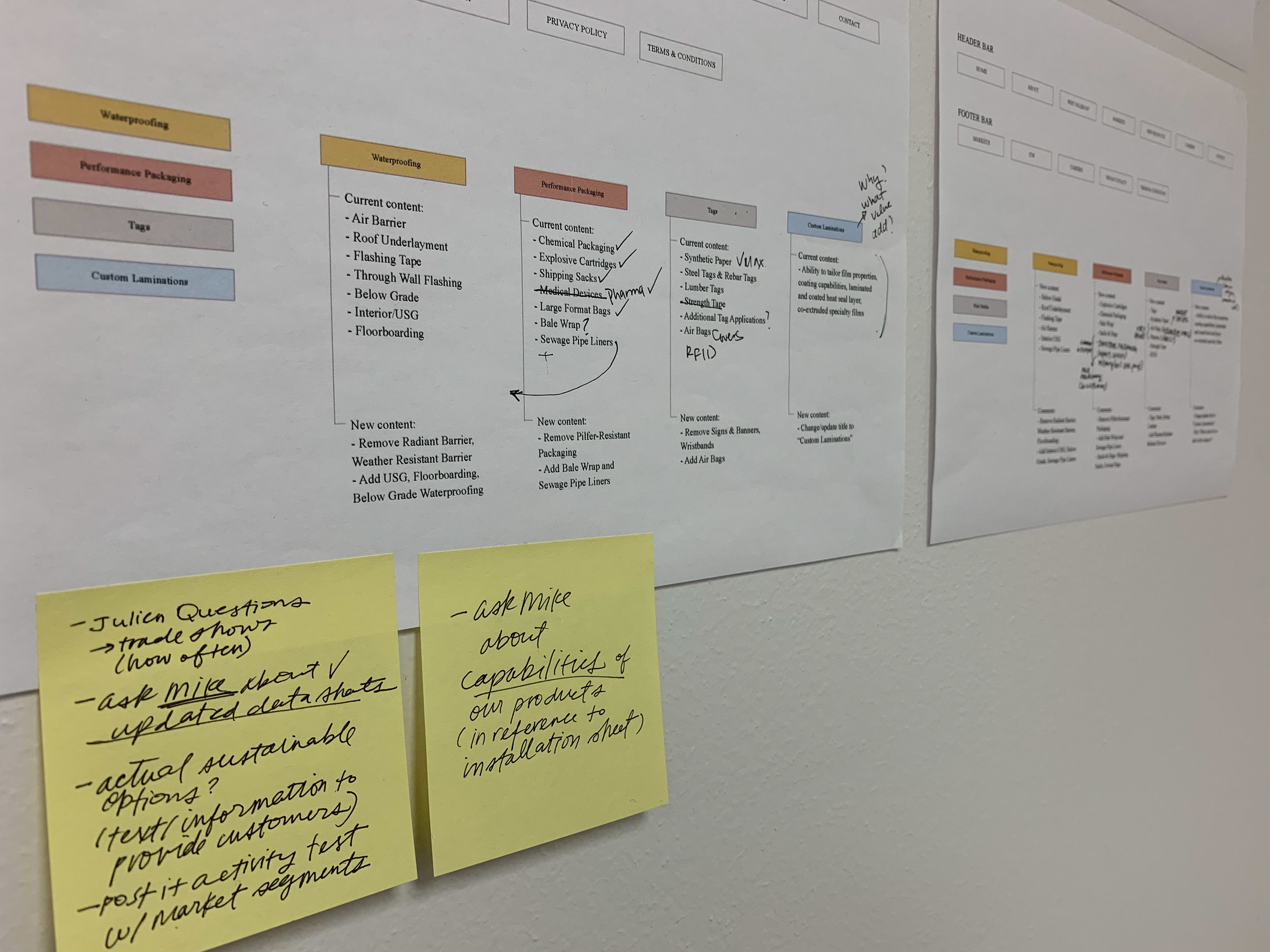 Website Prototype
After finalizing on the navigation hierarchy, I designed mockups of the main page layouts that would be most important on the website first, such as: Homepage, Manufacturing, Markets, and Contact.

The purpose of the website was to introduce customers to the company and showcase products in a clean and elegant manner with seamless navigation. Pictures bleed to the edges of the screen for visual impact while the icons serve as easy readability for specific information. Benefit icons were refined using Valéron's original vintage symbols as a reference point.

Building with Webflow
I chose Webflow as the main site builder, due to their flexible customization interface that let me recreate my mockups as real web-pages. Although there was a high learning curve, Webflow has a great forum called Webflow University, where they have short videos and tutorials that helped me understand their basic layout of how to use their website-building assets.
Before I left my internship, I ended up creating a Webflow Brand Guide to make sure that the company would be able to maintain the website by itself.
Manufacturing Process and Market Illustration
With their current manufacturing process images outdated, I was determined to illustrate a new step-by-step infographic that could be easily read by anyone. After numerous iterations, many reference photos, and countless trips to the plant with some R&D team members, I was able to simplify their complex process into 3 images.


Another problem I encountered was the outdated images of their products. Because Valéron's plastic film isn't an end product, it was hard for us to obtain images of the film being installed on the construction field. In order to tackle this, I decided to design images that gave the customer a basic understanding of how the film would be utilized in the specific market.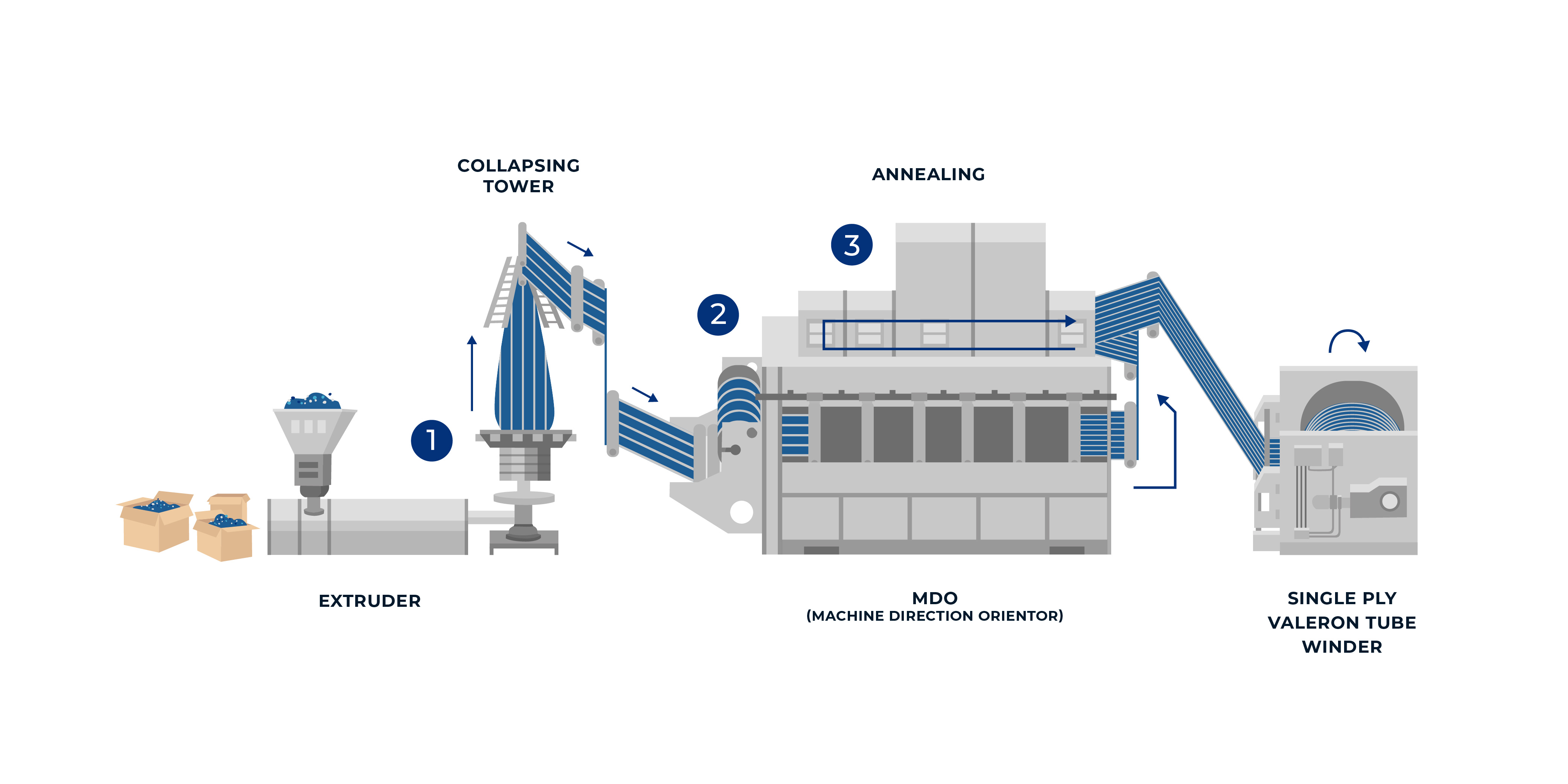 Step 1: Extrusion


Step 2: Spiral Cutting


Step 3: Cross Lamination